Italian Villa wedding photographer – Compton Acres
Stunning gardens and an Italian Villa
Looking for a wedding venue with a bit of a unique style? The Italian Villa at Compton Acres in Poole. Dorset has a lot to offer. Being a Local venue to me I love to visit as it means I don't need to worry about any travel. I'm literally minutes away.
In beautiful sunshine, these amazing human beings shared their wedding day with me and allowed me to capture special moments from their big day. I even got to learn what happens in a Chinese Tea ceremony, I had it wrong all these years! You won't believe what happens!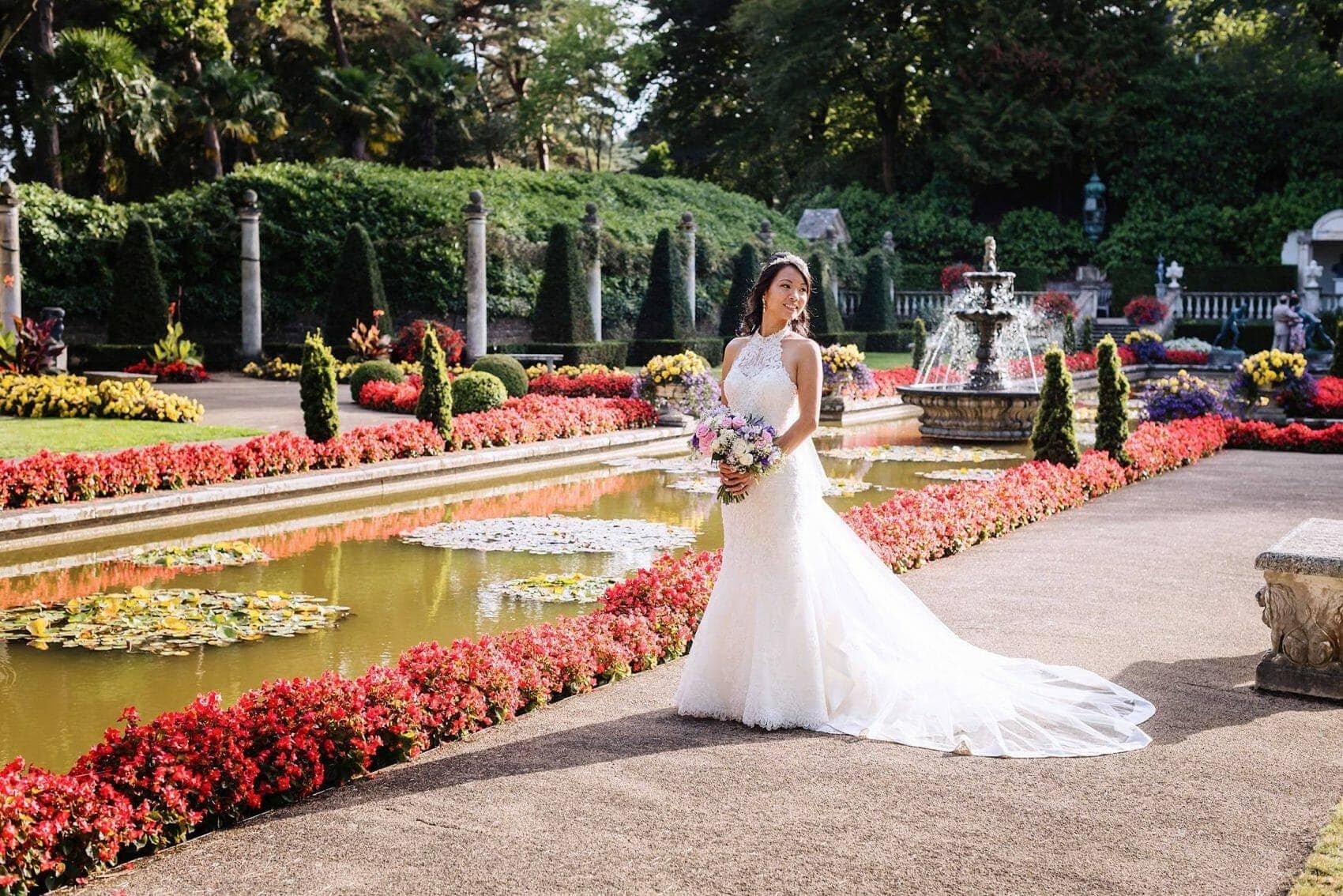 View the Italian Villa photos in under 3 minutes
We are all busy these days and if you don't have the time to read about this Italian villa wedding photographer wedding in detail watch this video which will give you the photographs from this page in a photo film set to time with some great music. Turn on the sound and go full screen. If you do have the time to read about The Italian Villa and Japanese gardens scroll on down.
Italian Villa Wedding photographer
As soon as I walked into the house of preparation in Poole I knew I was in for a good day. Immediately the laughter and light-hearted humour was creating the most amazing atmosphere. Gloria was just one of those warm-hearted people that I feel blessed to have met on my journey through life. No stress and a lot happening. I got introduced to her ring bearer, a Japanese manga-style plush toy, that alone speaks volumes about Gloria.
Compton Acres – The Italian Villa Wedding Ceremony
Stephen waiting patiently at Compton Acres was a sure sign that this would be a good day. No nerves visable just a welcoming smile from him and the bestman. Inside the Italian Villa all the guests were sat being entertained by my favorite registar. Always making people laugh and at ease. The light in the Ceremony room at the Italian Villa is beautifully soft. Which makes for lovely portraiture throughout the ceremony.
Gloria arrived in her Cream classic car radient with excitement. A few final touches in the wing mirror by the bridesmaid and we were ready for the ceremony to start. Gloria, accomanied by her father, floated down the aisle on pettles scattered by her flowergirl.They watched by all her friends and family and greeted at the end by a huge smile and a kiss from Stephen.
The Reception at The Italian Villa
After a wander around the Gardens outside the Italian Villa taking the formal group photos. Enjoying the canapés in the sunshine, it was time to sit down for the reception. Stephen and Gloria opted for a different seating plan with the two of them. In the middle on a table for two. The first time I'd experienced this and it was rather nice to see the couple enjoy their own company. These are while also being able to chat with the whole room. The speeches were also given a different dynamic because of the seating plan. I found it to be a little less formal and definitely something to consider. If you are planning your own Italian Villa wedding.
Looking for an Italian Villa wedding Photographer?
The Japanese Gardens
No visit to Compton Acres for an Italian Villa wedding would be complete without a visit to the Japanese gardens. We have Thomas William Simpson to thank for this marvel. He spent over £220,000 creating these gardens which today would be the equivalent of over 3 million pounds! They really are one of the best backdrops for an Italian Villa wedding photographer and every time I visit I see different angles to photograph couples.
Tea Ceremony & Party
Now, before this wedding, I'd always thought of a Chinese tea ceremony as something refined and elegant, passing around a pot of green tea while exchanging gifts in red envelopes. This is part of the celebration and I have photographed this several times but what I hadn't seen before was what happens traditionally the evening before the wedding. Because of logistics Stephen and Gloria chose to hold this part on the wedding day itself.
What is this tradition I hear you say? Well, the Bridesmaids set a series of challenges for the groom and groom's party to earn the bride's hand in marriage and this is done in front of the heads of the family (the parents). This tradition puts the British stag and hen parties to shame, If the challenge wasn't met satisfactorily then a forfeit was given, one of these challenges was eating a raw Ghost chilli – painful! I'll let you read into the photos below what challenges were set, it was fun. After this it was party time, Gloria changed into a different dress for the evening and wow wasn't it a stunning dress almost as stunning as the first dance.
Sandbanks Bridal Portraits
Having your wedding at The Italian Villa has the advantage of being close to Sandbanks and Poole Harbour which is known for its stunning sunsets. If you plan well enough and make the effort to get down to the shore, like these two, you can get some fantastic final portraits to grace the walls of your home.