Lulworth Castle Wedding Photographer
The Venue
This is written from the point of view of a Lulworth Castle wedding photographer. Lulworth Castle is one of the grandest wedding venues in Dorset area, also home to Camp Bestival, originally built in the 17th Century as a hunting lodge. It became a country house at the heart of the Lulworth estate for many years to come, unfortunately, in 1929 it was gutted by a blazing fire but thanks to English Heritage we have the restored splendour that you see today. When Phil and Suzanne asked me to join them for their wedding I jumped at the chance.
First Meeting
I first met with Phil and Suzanne at a public house near to me, the offer of a drink and a chat was too much to pass up. They both live and work near London so a well organised evening was the only way to meet. I always recommend a face to face meeting with all my clients to see how we get on in person as personality goes a long way towards relaxed portraits. After around 5 minutes, without even getting out a sample wedding album, we hit it off. We had plenty in common, a love of the sea was a major pull as we all sail and started swapping stories and laughter. From this meeting, I knew that if they decided to use my services we would be having a great time in a beautiful setting. Thankfully they had the same good feeling like me and promptly booked my services.
The Morning
As with 99% of my weddings, I started with the bride. Suzanne started her preparations in Weymouth at her parents home. The sun shone and the bubbles were aplenty as the, eerily calm people prettied themselves. Suzanne is a character, I have plenty of pictures of her playing up to the camera but the one I've put up here shows where she gets it from, can you spot it?
I left Suzanne and her family to meet Phil and the guys at another Public house…. seeing the theme here. A swift drink with his closest friends and family, a lot of whom drove down from the city to join them in this rural setting. Off to the castle.
The Lulworth Castle Wedding Ceremony
All of my previous visits as a Lulworth Castle wedding photographer had been ceremonies in the Castle itself, however, nestled in its extensive estate is the church of Saint Andrews. This was my first visit to the church and it is just as amazing as its neighbour the castle. A slightly larger than average Dorset Church. The Vicar of this church was a very accommodating lady with a passion for photography which always helps, showing me little escape routes that I could use during the service so I could move around without being seen.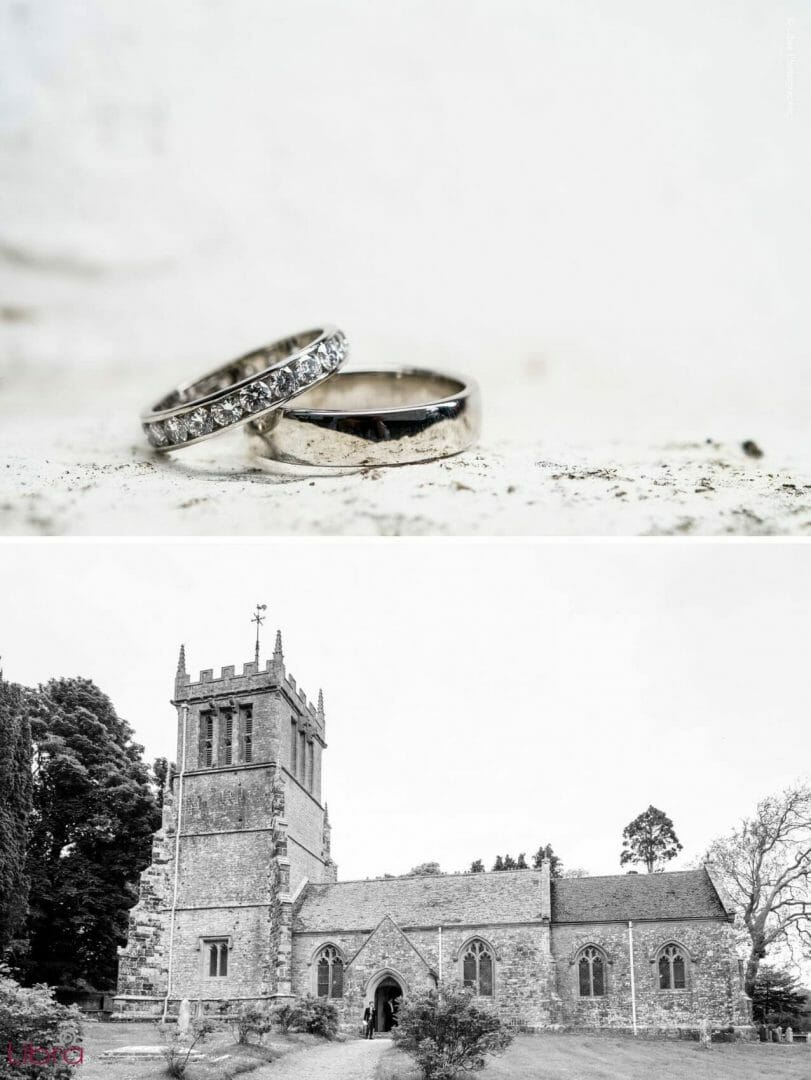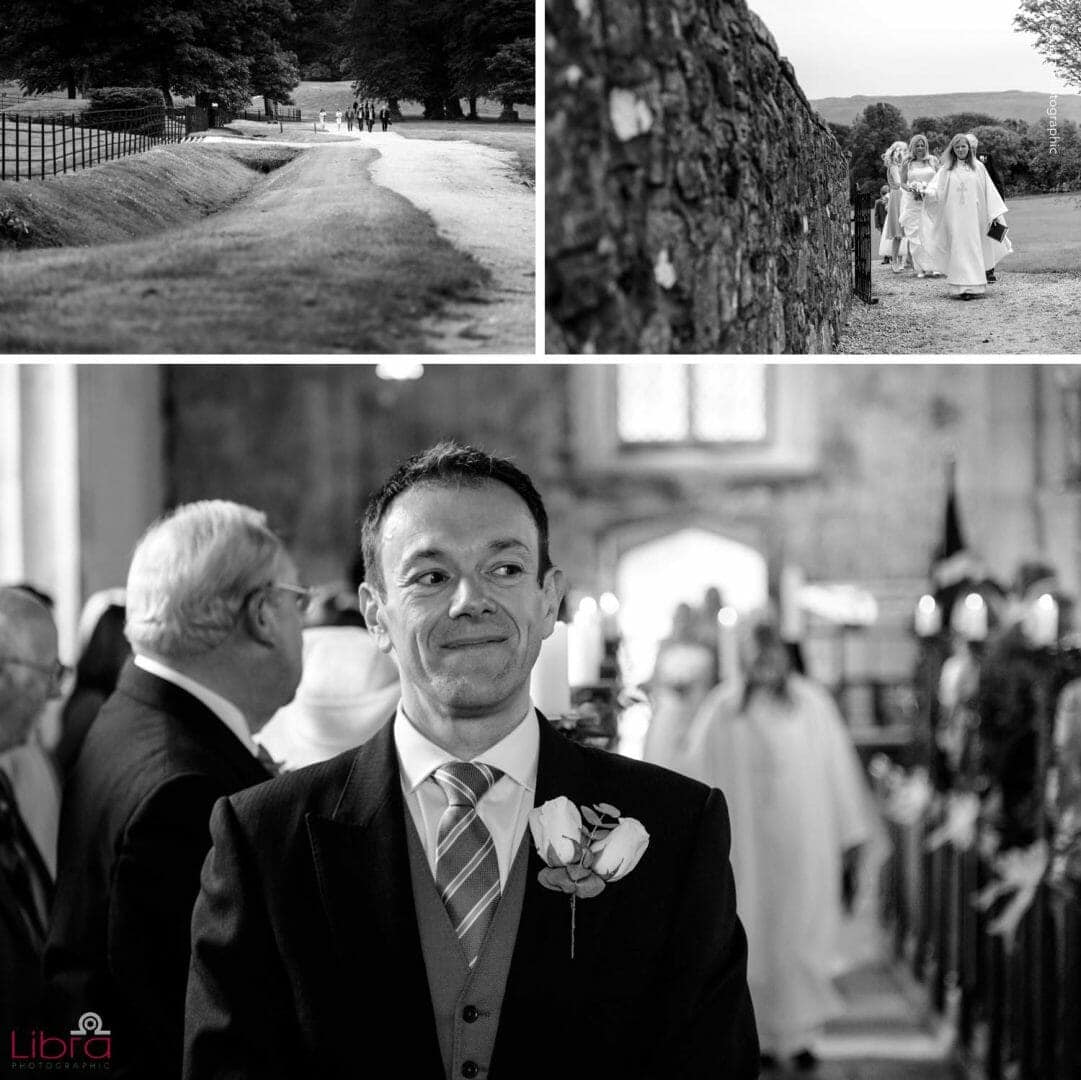 The Castle Reception
If you want to know how to enjoy a castle wedding then take a few tips from these guys. Garden games, drinks, ice cream and a sense of humour. Garden games are a must at a venue like this, there is always a little downtime between the ceremony and the reception these are perfect to entertain your guests while the formal photos are being taken.
As usual the decor in the castles reception room was stunning, this venue has a special place in my heart and I'm never disappointed with its grandeur. We stood on the terrace for a few shots of the family which included possibly the cutest flower girls and page boy I've seen for a long time before I took a little wander through the guests to get those all important candid photos. Once we were all called in for food Suzanne's humour was again clear to see as she put her bouquet into the hands of the suit of armour behind her table (pictured below).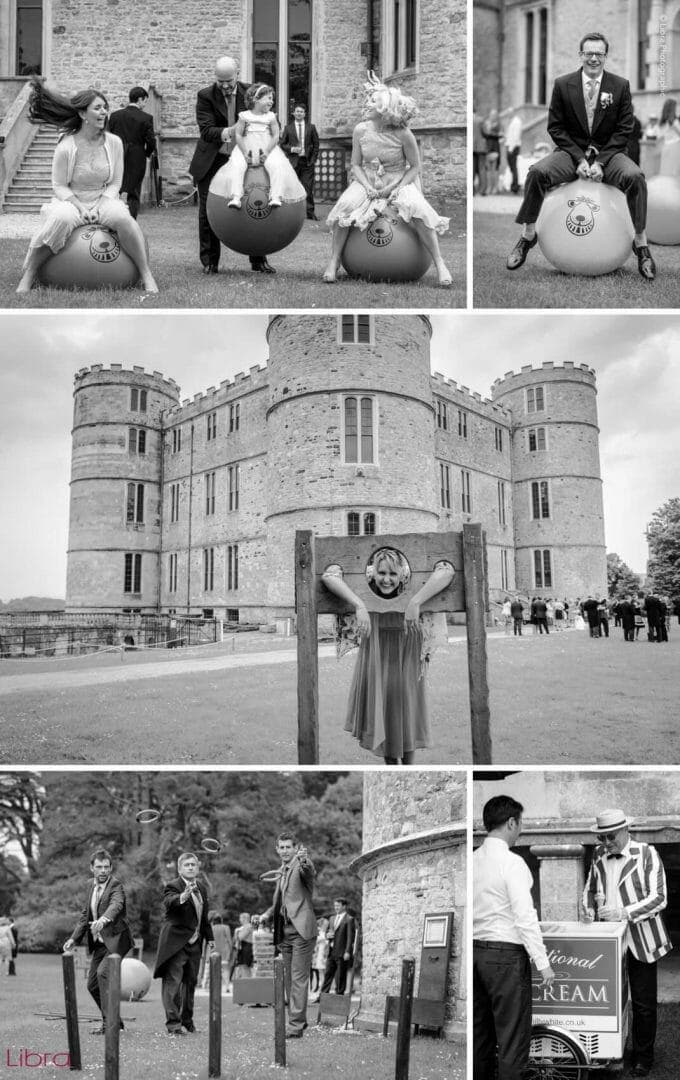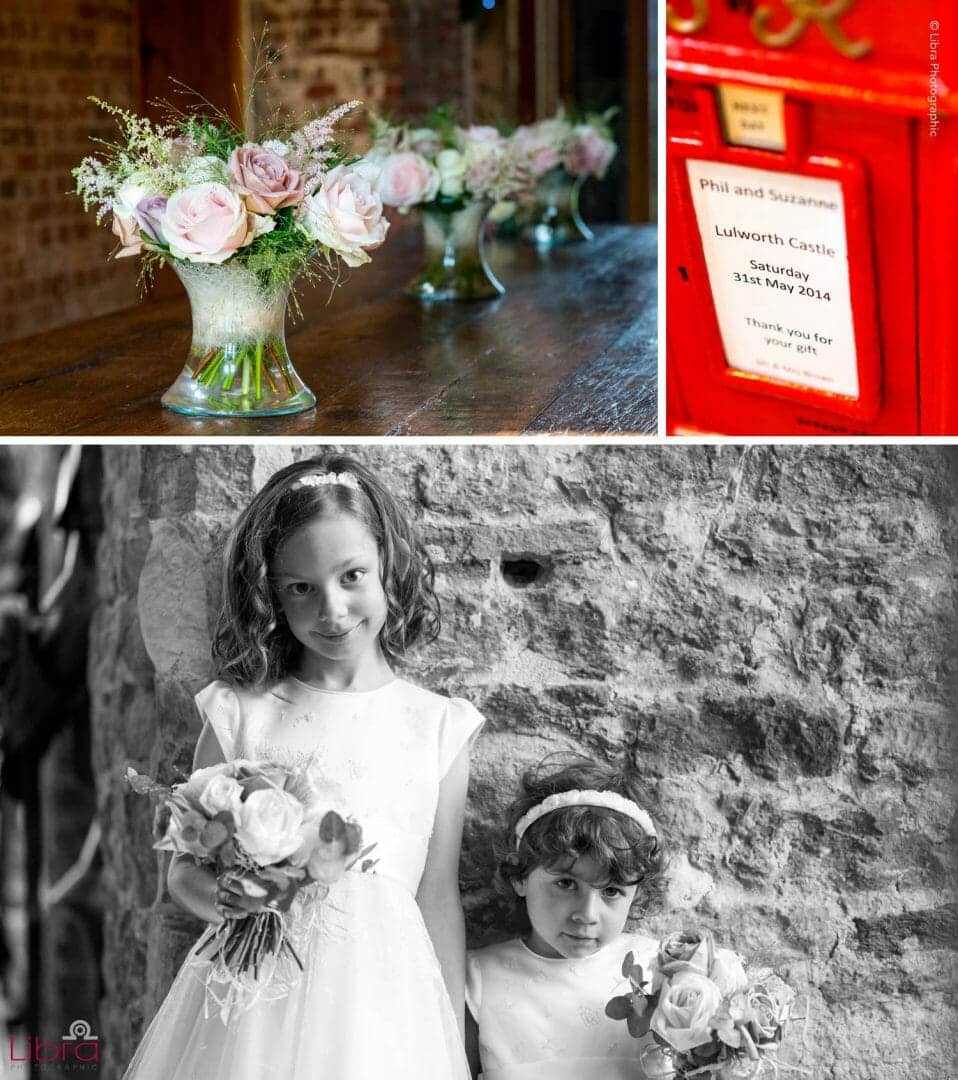 Party Time
After the speeches which we both funny and emotional as all good speeches are, it was quite obvious that these guys were used to public speaking, it was time to let their hair down. The first dance was touching and the grand hall let me cast a huge shadow of the couple as they danced on the wall behind them. A venue like this lets a photographer play a little more than most. After a little fun time I took them outside to catch the sunset and have a little fun in the basement, I had planned the shot below a while ago and I was keen to try it out.
While setting up the sunset shot outside an inquisitive peacock decided to photo bomb and took an interest in my work getting so close that I couldn't even focus on him! Every wedding has its little moment and this was one encounter I really didn't expect!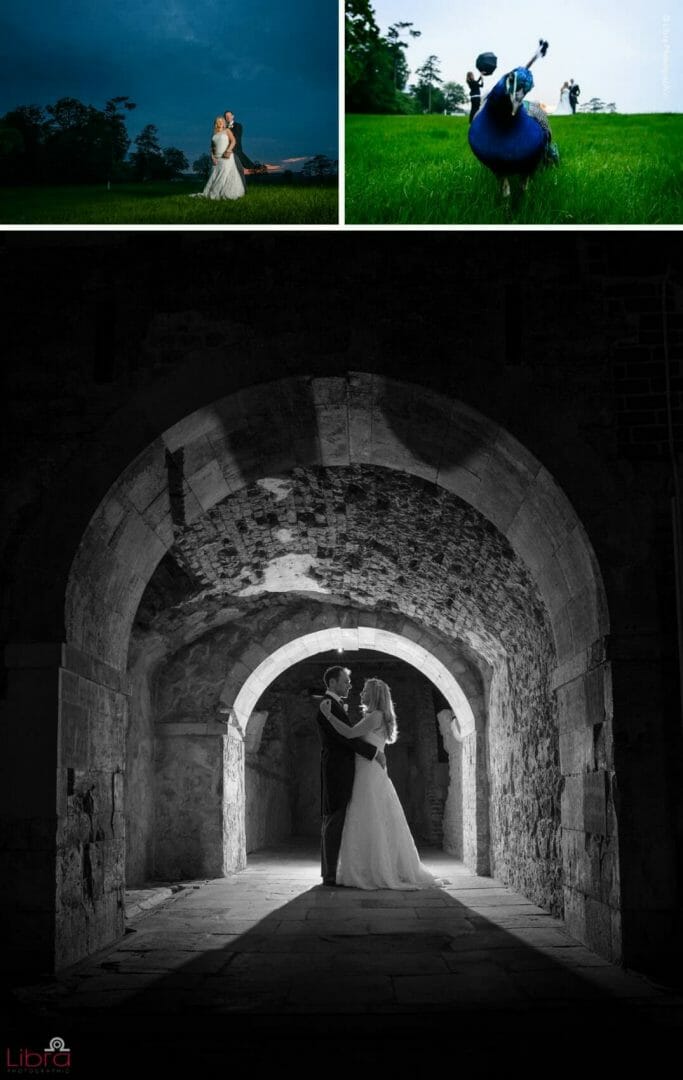 I know that Suzanne and Phil will be very happy, we have since met for a portrait shoot on the beach reminiscing about their big day . Definitely one of my favourite couples.