Boho, Travel themed, Wimborne Minster and Tipi wedding
Wimborne Minster Wedding Photographer
Sometimes weddings just work
Sometimes when I turn up at a wedding everything just falls into place and the people at the wedding just align with each other. This wedding was one of those days. A visit to the Majestic Minster in Wimborne was followed by a fleeting visit to Pamphill and onward to their family farm where Coastal Tents had worked their magic and put up one of their awesome Tipi's
The post is long so come back anytime and find your place below. If you want to see all the images in 5 mins skip to the slideshow
---
"We loved him. He instantly clicked with everyone and made us all feel at ease. He seemed to be effortlessly everywhere (although he was spotted running with his two cameras). He took us to one side a couple of times for some more intimate shots. This was a welcome break from the dance floor and provided some beautiful night shots. We had loads of great feedback from guests. This was all before we'd even seen the photos. We absolutely love them. He really captured the feel for the day".

– Kelly and Oliver
---
Morning Preparation
Kelly started her day in the beautiful accommodation on her family farm. Now, this wasn't a farmhouse, it was beautifully decorated modern accommodation available on Airbnb, Huge windows flanked the western side of the building flooding the area with soft light, a wedding photographer's dream. With all her nearest and dearest getting ready in the same area it was a busy atmosphere but not a whiff of stress. Kelly made my morning when I commented on the snack food being vegan. "I'm vegan and today it's my wedding so I thought, sod it, I'm not apologising, I'll buy what I want" Now that's how to approach your big day, make it yours.
Wimborne Minster Wedding Photographer
Arriving at the Minster in Wimborne, Dorset is awe-inspiring. Whatever direction you approach it looms over the town. It is obvious to anyone that Wimborne grew up around the Minster, it is the hub of the town, and even the town's one-way system skirts around it. I have to admit it is intimidating at first but one of the most down to earth clergymen control the aisles. I thoroughly enjoyed being the days Wimborne Minster wedding Photographer and I'd love to return.
Kelly arrived in style in Lulu, a pale blue split screen campervan from Dorset Dubhire, my favourite VW hire company. Her huge smile gave an indication of how the day would continue. Meanwhile, at the other end of the aisle, Oliver waited anxiously, his facial expressions also giving everything away.
Quick visit to Pamphill for some natural wedding portraits
It is always a good idea for a couple to stop between venues if time allows for some brief portraits as it gives your guests a chance to overtake, park and get a drink ready to welcome you. We had the option of stopping at Pamphill, famous for its bluebells and village green. On this warm day, it was certainly busy but we found a quiet corner and took a stroll. This was the first time I saw Kelly and Oliver relax and show their true colours. They were such comfortable people, having a laugh at each other and enjoying their wedding that had been postponed for too long thanks to the pandemic.
Tipi wedding photographer – reception
A little drive from Pamphill the wedding reception and we arrive at the family farm where this tipi wedding photographer gets to work on a dream shoot. The location is fantastic and I have my creative juices flowing. Did I mention the cake topper? It's the best topper ever, more about that later. Both Kelly and Oliver step out into the canapé and drink reception full of smiles and laughter. This is one of my favourite parts of a wedding to observe and catch candid moments as a Documentary wedding photographer.
Top tip – Give your photographer time for candid photos and you will not be dissapointed
Speeches, I knew these were going to be good, emotion was high and the jokes between family members were brilliant. Kelly couldn't let Oliver have the last word though, up she stood for her speech pint in hand, my kind of bride. I'll let the photos speak for themselves
Party time
After the speeches, the fun begins. One thing Tipi's are good for is an awesome party. I don't think I've actually been to a wedding in a Tipi where the dancefloor has been empty. This wedding did not let the side down. The drink was flowing, and the dancefloor moves were kicking off, even the kids were busting some impressive moves.
Golden Hour portraits
When it comes to the time for portraits you can't beat the golden hour. I pulled Kelly and Oliver out from the Tipi and into the sun, pint glasses in hand. There is always time to make use of a good sunset and to look over the Dorset hills to the west this Dorset wedding photographer had to make it happen. Oliver and Kelly never stopped laughing all day, I am sure their life together is going to be a long and happy one.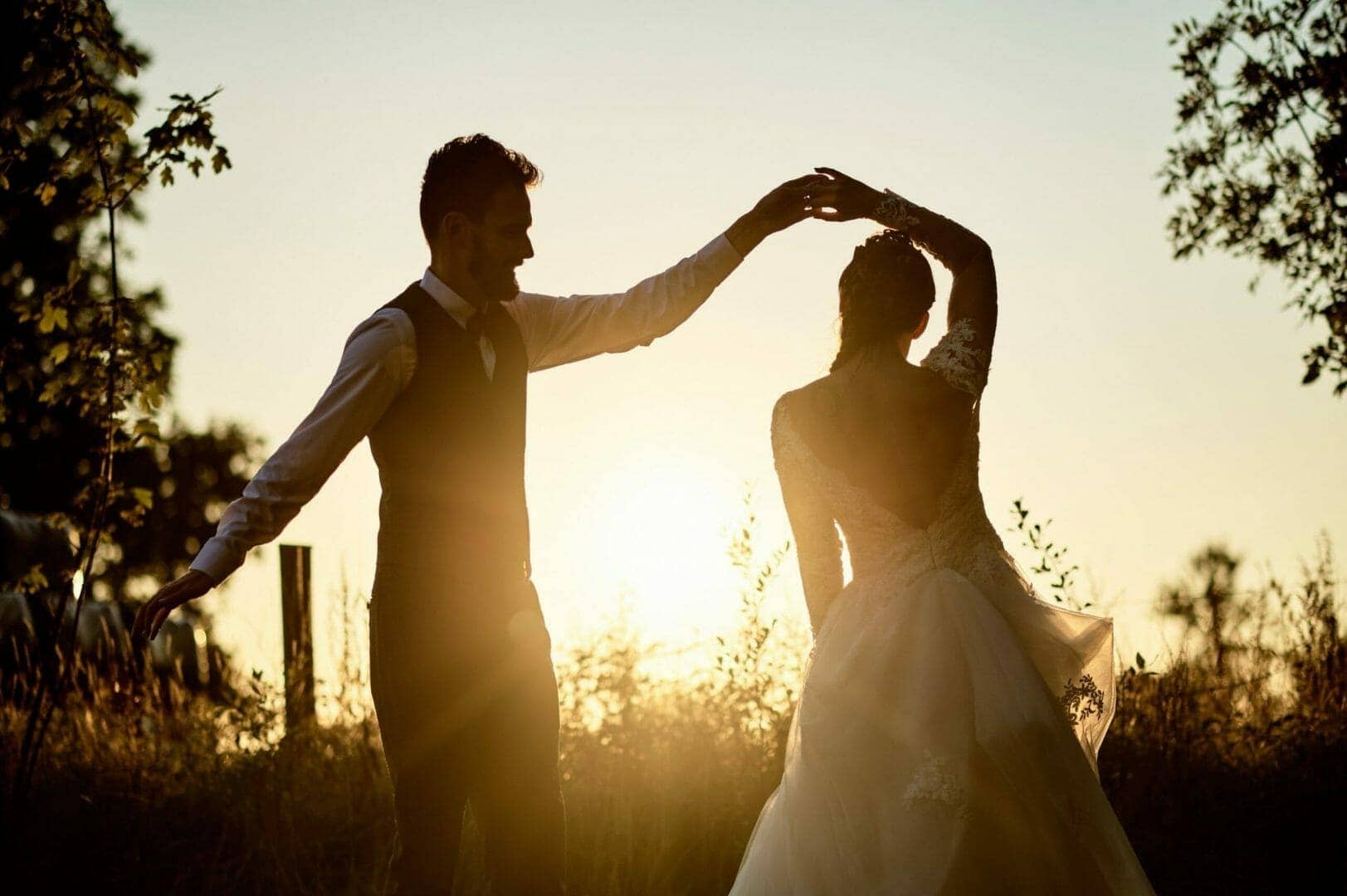 The Cake topper and Globe
As promised earlier here is the best cake topper in the world. If your Wimborne minster wedding photographer had been postponed multiple times throughout the pandemic wouldn't you have the same sentiment? I absolutely loved it.
Florist: https://www.willowandwisps.com/
Tipi: https://www.coastaltents.co.uk/
Pizza: www.pizzawithlove.co.uk
Campervan: DorsetDubhire